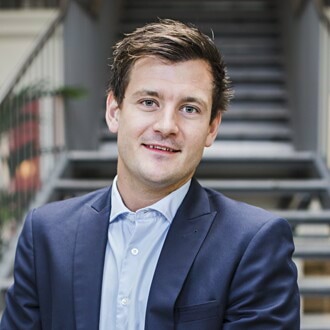 Ola Nordahl
Application Consultant – Application Consultants Sweden
Hi Ola,

What does a typical workday look like?
My days are usually spent in meeting rooms with customers (or on Teams), helping customers implementing or upgrading AARO or figuring out smart solutions for different types of business events. My day could also be that I am deep-diving by myself (or with a colleague) into a certain problem that needs a solution. 
Can you describe your tasks as an application consultant?
I help our customers implement and upgrade AARO, this might include guiding them how AARO works regarding group accounting and the group reporting process or showing and explaining features of the system. Helping our customers in complex situations by supporting them in their acquisitions, divestments, mergers or other business events, both from an operational and legal aspect.
I also educate both customers and colleagues by doing educations and presentations regarding group accounting and AARO.
What do you like the most about your job?
What I like the most is the versatility, the complexity and the variety.
You get to work with accounting but from an IT/system point of view. This gives you a very versatile profile and knowledge which is often very appreciated among our customers. I like having one foot within group accounting and one foot within a system for group accounting.
Since the application consultant role includes being an expert and guiding the customer in the right way by having workshops, holding educations and presentations and moderating discussions but also "getting your hands dirty" by designing and testing solutions yourself, there is very much variety in the daily work.
Above in combination with that we work with very many interesting customers that are major business groups in a global setting and that usually needs help with complex problems makes this job very interesting. 
How would you describe your colleagues and the working culture?
Aaro Systems is a rather small but growing company. There are different sections within our company – all with different perspectives, knowledge and experience. What most of us however have in common is the system AARO and we can all relate to it somehow. This gives a "mutual interest" among the colleagues which I believe is very positive for the working culture and the social setting. Much freedom is given and you have the possibility to affect and bring forth your ideas. I enjoy being on the "journey" of Aaro Systems together with my colleagues and I do feel very much part of the Aaro-family.